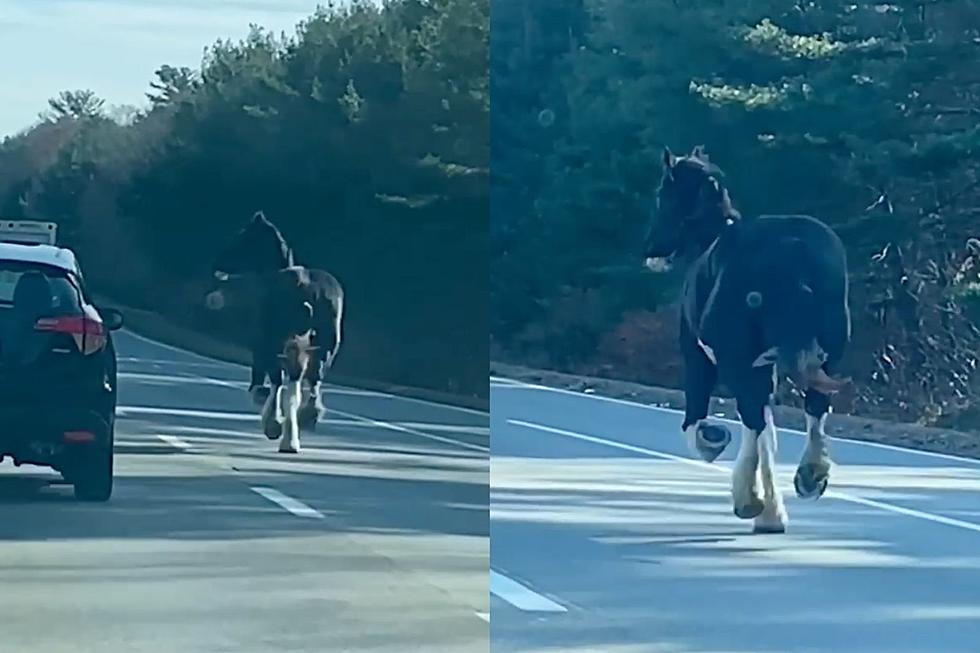 Taunton Clydesdale Galloping Down Route 140 Is a Sign of Christmas
Submitted Photo
The SouthCoast has seen its fair share of both wild and farm animals on our highways, but this one is most certainly a first for the area.
What appeared to be a Clydesdale horse was seen galloping at a pretty good notch heading southbound on Route 140 in Taunton earlier today. Middleboro State Police were on the scene and confirmed that the horse was safely captured and returned to its owner.
We got a tip from listener Phax Aqui, who originally informed us of the horse around the rest stop area by Exit 10, just past the Lakeville exit and just past the Taunton line. Aqui was traveling northbound and witnessed the majestic beast hauling down the interstate in the center of the road.
We were able to secure some incredible footage of the Clydesdale galloping alongside other vehicles, impressively keeping up. Thankfully, it was not harmed as cars began slowing down to allow the horse to have the right of way.
Now, if this doesn't have a Christmas vibe to it, I don't know what does. Seriously, if Hallmark needed a new idea to kick off its annual holiday movie marathon, then they should take a page out of this book.
In the event that you ever find yourself in this situation, safely and cautiously move out of the way and inform your local police headquarters, or in the case of the highway, you can call the Massachusetts State Police. Let them take care of the situation as these horses are extremely powerful and can become dangerous if spooked.
15 Seasonal SouthCoast Things for Christmas Lovers to Do
It's beginning to look a lot like Christmas and people all across the SouthCoast are getting in the holiday spirit with some of their favorite seasonal stuff. Here's our list of those must-do SouthCoast things to really start feeling festive.