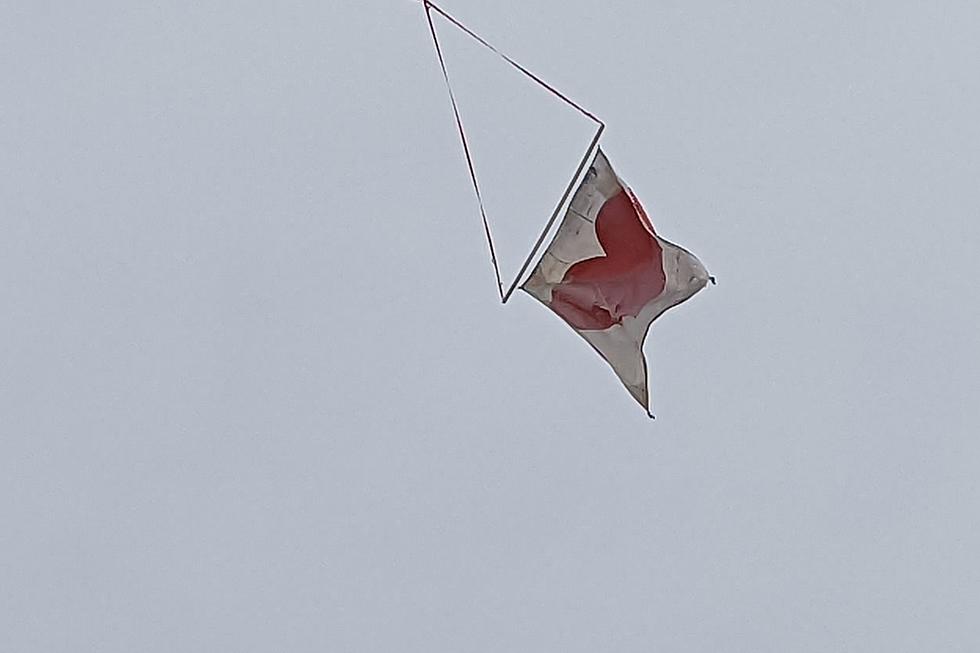 Portland Maine's Valentine's Bandit Strikes Again Where No One Suspected
Jeff Parsons
For the forty-sixth consecutive year, Portland's Valentine's Bandit has struck the city, covering downtown Portland with hearts, and this year they hit two places with the largest of the hearts.
If you aren't familiar with the Valentine's Bandit, whoever is behind it has a long history of plastering downtown Portland with hearts printed on paper as well as at least one huge heart in a very visible location.
Over the years a heart has been hung from The Portland Museum of Art, The Portland Public Library, The Portland Observatory, and even out in the water on Fort Gorges and they always get attention.
This year though, a giant heart was found in two places, one of them right near our studios at One City Center, hung from a 250-foot tall tower crane being used to build what will soon become the tallest residential building in Maine
With the wind blowing at a good speed, the heart looked like a flag as it slowly flapped in the wind moving up and down in height as the wind caught it.
The second location was definitely unique. On the frozen pond at Deering Oaks park, hearts had been formed on the ice as seen in this video posted this morning by the Portland Parks, Recreation & Facilities Department on Facebook.
The Valentines Bandit never disappoints. Every year they come through with a surprise no one expected. I think by now we know that it isn't just one person doing all this work overnight. It's dozens, maybe hundreds that participate to bring a little fun to the city on Valentine's day. Think of the Valentine's Bandit like Santa Claus. You'll never see him or his elves, but when you wake up in the morning, you'll know the Valentine's Bandit struck again.
30 Ways to Know You're from Portland Without Saying You're from Portland, Maine
Tell me you're from Portland without telling me you're from Portland, Maine...
12 Picturesque Hotels in Portland, Maine With The Best Waterfront Views
Harbor views of the waterfront, top-rated restaurants, rooftop bars, Portland hotels have it all.
LOOK: Here is the richest town in each state
Just saying the names of these towns immediately conjures up images of grand mansions, luxury cars, and ritzy restaurants. Read on to see which town in your home state took the title of the richest location and which place had the highest median income in the country. Who knows—your hometown might even be on this list.