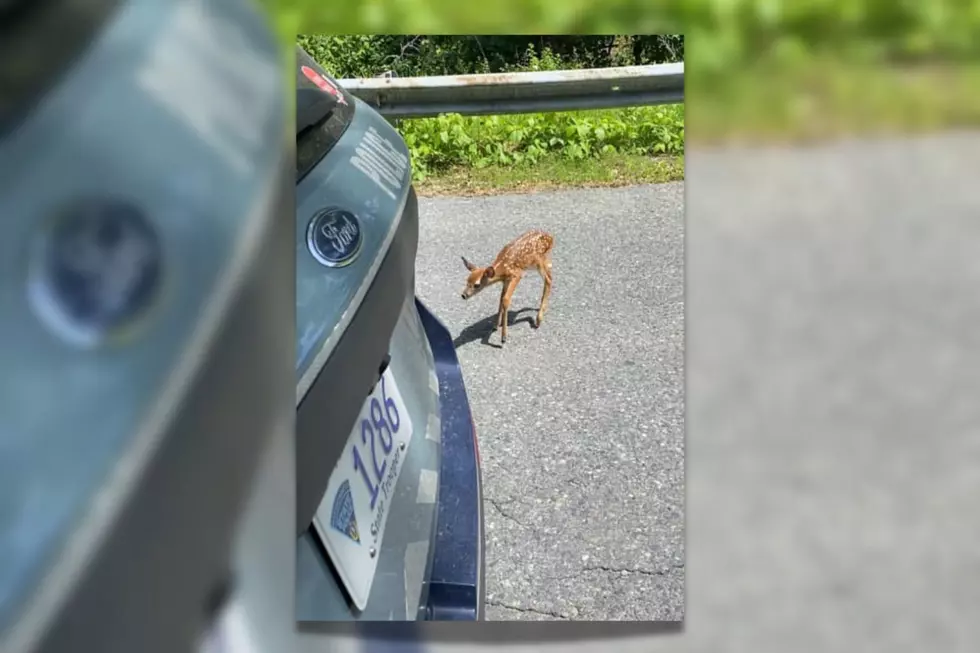 Massachusetts State Trooper Stops Traffic to Save Little Deer in the Headlights
Massachusetts State Police/Facebook
The Massachusetts State Police has plenty of requirements listed on their job description, but I'll bet "deer wrangler" isn't one of them.
That didn't stop Trooper Paul Dabene on Monday when he went above and beyond to protect the wildlife that was headed toward danger in Framingham.
State Police shared the touching story of how Trooper Dabene saw a mother deer and her fawn walking up an access road that connects to the turnpike in Framingham. He didn't have a good feeling.
"The mother and her baby were approaching the Pike," said the department. "Trooper Dabene, who patrols that stretch of the Pike out the State Police-Weston Barracks, was concerned they would try to cross the highway and risk being killed, so he blocked the end of the access road to prevent that."
When Dabene blocked their path, the mother and baby decided to turn back around, a decision that most likely saved them from a terrible accident.
The department managed to get an adorable photo of the fawn before the mother and baby retreated to a safer area.
We always assume that the police will protect people, but Massachusetts is lucky enough to have officers like Dabene, who not only protect the people but the wildlife as well.
Kudos to Trooper Dabene for his heartfelt effort, and shoutout to whoever snapped the adorable photo of the fawn that got a second chance at life.
It was the dose of cuteness I was looking for today.
Massachusetts Laws You Don't Even Know You're Breaking
There are a lot of strange laws still on the books in Massachusetts, many that also carry actual punishments and fines. Though we're pretty sure no one has been arrested for the crimes we're about to list, we're also pretty sure you have violated at least one of these laws in the last month or so.