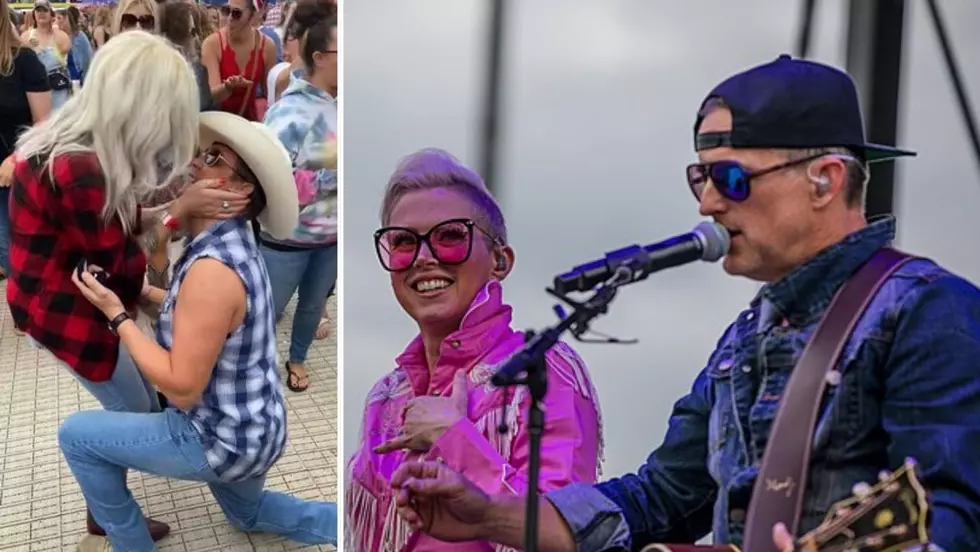 Couple Gets Engaged At The WYRK Toyota Taste Of Country
Photo Credit: Canva Image
You may have seen a proposal at a concert before, but I doubt you have seen one exactly like this.
The WYRK Toyota Taste of Country returned to the ballpark over the weekend after nearly three years of being unable to host the "Biggest Party of the Summer" at Sahlen Field, the home of the Buffalo Bisons.
The biggest country concert of the year featured our TOC Riser OsbornNash, Thompson Square, Walker Hayes, Billy Currington, and closing out the show was Tim McGraw.
After a performance featuring kazoos with local favorite OsbornNash, Thompson Square took the stage. They are perhaps the most well-known country duo that is composed of husband and wife, Keifer and Shawna Thompson. 
Their song, "Are You Gonna Kiss Me Or Not?" became their first #1 hit back in 2011. It is an iconic country love song, and if you were going to propose at the 2022 Toyota Taste of Country, you could not possibly pick a better song. 
While everyone else in the ballpark was singing along to a Thompson Square classic, Joey Alba of Cheektowaga was mentally preparing to propose to the love of his life, Danii Gotts. 
As soon as Thompson Square started singing, "Are you gonna kiss me or not?" Joey Alba got down on one knee and proposed.
Immediately, Danii grabbed his hand and started nodding yes before kissing him.
"Taste of Country has always been our thing since 2018," Alba wrote on Facebook. "This year I asked the love of my life Danii Gotts to marry me. She said yes."
Thompson Square gave the couple a shoutout on their social media after the concert. 
"So this happened while we were on stage last night in Buffalo! Congrats Danii and Joey. #shesaidyess #areyougonnakissmeornot" Thompson Square wrote on Facebook.
Joey Alba responded, "Best night of our lives. What an amazing concert and a night we will never forget."
His fiancé, Danii, agreed, and she called it the "perfect night and perfect song."
It was a perfect night, indeed! Especially for this couple.
If you want to relive the night of country music, check out the photos below.
Taste of Country 2022
Photos from Country's biggest night.