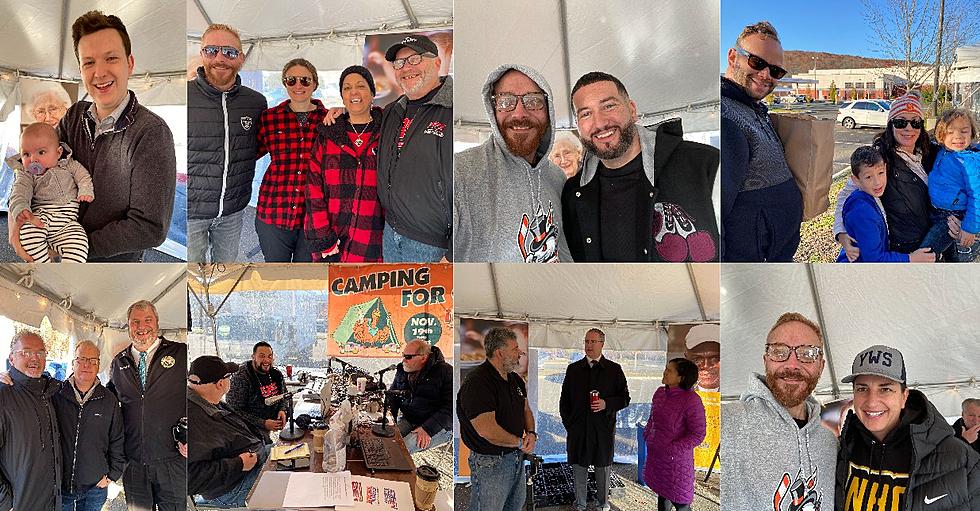 Were You Spotted at the Most Successful Camping for Cans Ever?
Lou Milano
It's the most wonderful time of the year. Thanksgiving, Christmas, Hanukkah and New Year's Eve are in front of us and so is the excess that comes with these holidays.
We will gather with our families joyfully, share gifts and eat a ton of food. It don't believe it's anything to be ashamed of, we worked hard all year and it's time to reward ourselves.
With all of that on the horizon, I'm reminded of those who cannot afford these gifts. Despite the unusual amount of wealth in the Greater-Danbury area there are many families that live on or below the poverty line.
Each year I try and remind myself that this is a reality and do my part to help out. What is my role? I grab the biggest microphone I can (The I-95 radio signal) and shout at the top of my lungs that people need help.
This is what Camping for Can is all about, I-95 teams up with the Hillside Food Outreach and we camp in a local parking lot for three days and collect food and money that ends up right back in our community.
This year we were in the BJ's parking lot in Brookfield and it was our most successful year ever from a donation standpoint. Those donations came from generous families all throughout the community and we saw many familiar faces and met some new people.
Camping for Cans 2021 Photo Album
Camping for Cans is our annual food/cash drive to benefit the Hillside Food Outreach. Hillside is an organization that feeds those in need all throughout the Greater-Danbury area. For years, I-95 has teamed up with them to get the word out about the needs of our neighbors in the area. 2021 was a smash hit and we raised thousands of dollars and truck loads of food with Hillside and our corporate sponsors. These were some of the many faces that joined us over the weekend (11/19-11/21).
Camping for Cans could not have worked without our major sponsors:
Saving Bank of Danbury
Coca-Cola - Northeast
Down the Hatch
Novella's Scrapyard
Clausthaler Non-Alcoholic Beer
Dawn's Pizzazz
We had infrastructure needs to make the event work and we could not accomplished any of that without:
Dave's RV
Lesser Evil
Durkin's Tent Rental
Mitchell's Oil
PJ's Porta Johns
We were able to raise $16,000 and 7,300 pounds of food for the Hillside Food Outreach. They will get all of that back out into our local area, gifting it to those in need. Thank you to everyone who made Camping for Cans 2021 possible.
UPDATE: The final count put us over $20,000 in cash/check donations. 
12 Signs You're a True American 'Tough Guy'
Our culture morphs and those shifts mean certain types of behavior have an expiration date. What you once thought was "cool" or "tough" may make you look like a straight up D-bag now. The problem is, when our culture pivots, not everyone gets the memo.
You could find yourself in a room with someone born in the 60's, another in the 80's, a man who was born in the 90's and another in the 2000's, they are all going to have different ideas about what makes them a man.
What makes you a "tough guy" today? For starters, the term itself is a punch line, if someone calls you a "tough guy", they are picking on you. This list was supposed to be titled "Top Signs You're a Raging Douche" but my editor nixed that, so these are the "Top Signs You're a Real Tough Guy."
Danbury Area Residents Share Stunning Fall Sunset Photos for 2021
What is easier than driving all over the Danbury area collecting photos at sunset? Delegating that task, that is exactly what I did recently. I asked our Ethan and Lou Radio Show (I-95) listeners to submit the best photo they took of a 2021 fall sunset. I put the request out on our Facebook page and in an alert on the I-95 Rock Mobile app. These are some of the many submissions I got back and they are stunning looks at sunsets in the Greater-Danbury area.
Danbury Officials Throw Parade for UFC Champ + Hat City Resident Glover Teixeira
Glover Teixeira had already
met with the new Mayor
Elect and was
swarmed
by fight fans and Hat City residents in Roger Park. All that was left to do was an official parade and ceremony for the public which took place on Sunday November 14, 2021. Flanked by local officials Glover took a ride down Main Street to Rogers Park where he was gifted a plaque commemorating his victory over Jan Blachowicz.